Before we moved into our house 4 years ago, we did a good amount of renovations. We updated the kitchen, painted every room, updated the foyer and living room, gutted the kids' bathroom, the downstairs bathroom, and the master bathroom, replaced carpet, and more. But one room we didn't touch was the laundry room. It's a small space and didn't seem necessary at the time but as we lived in the house, we realized a facelift would make a big difference in our everyday life. So we finally did it and I'm so excited to share our laundry room renovation with you!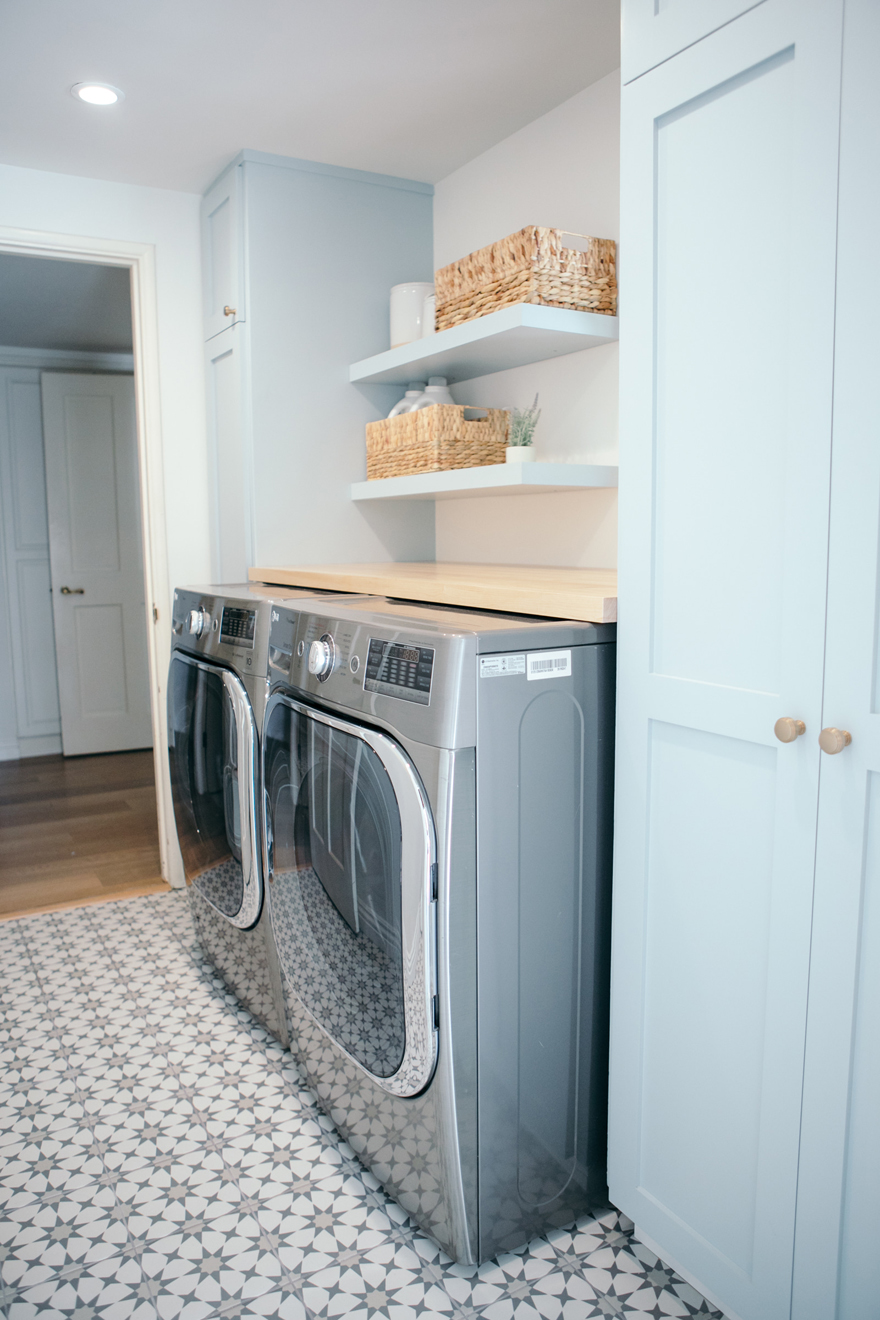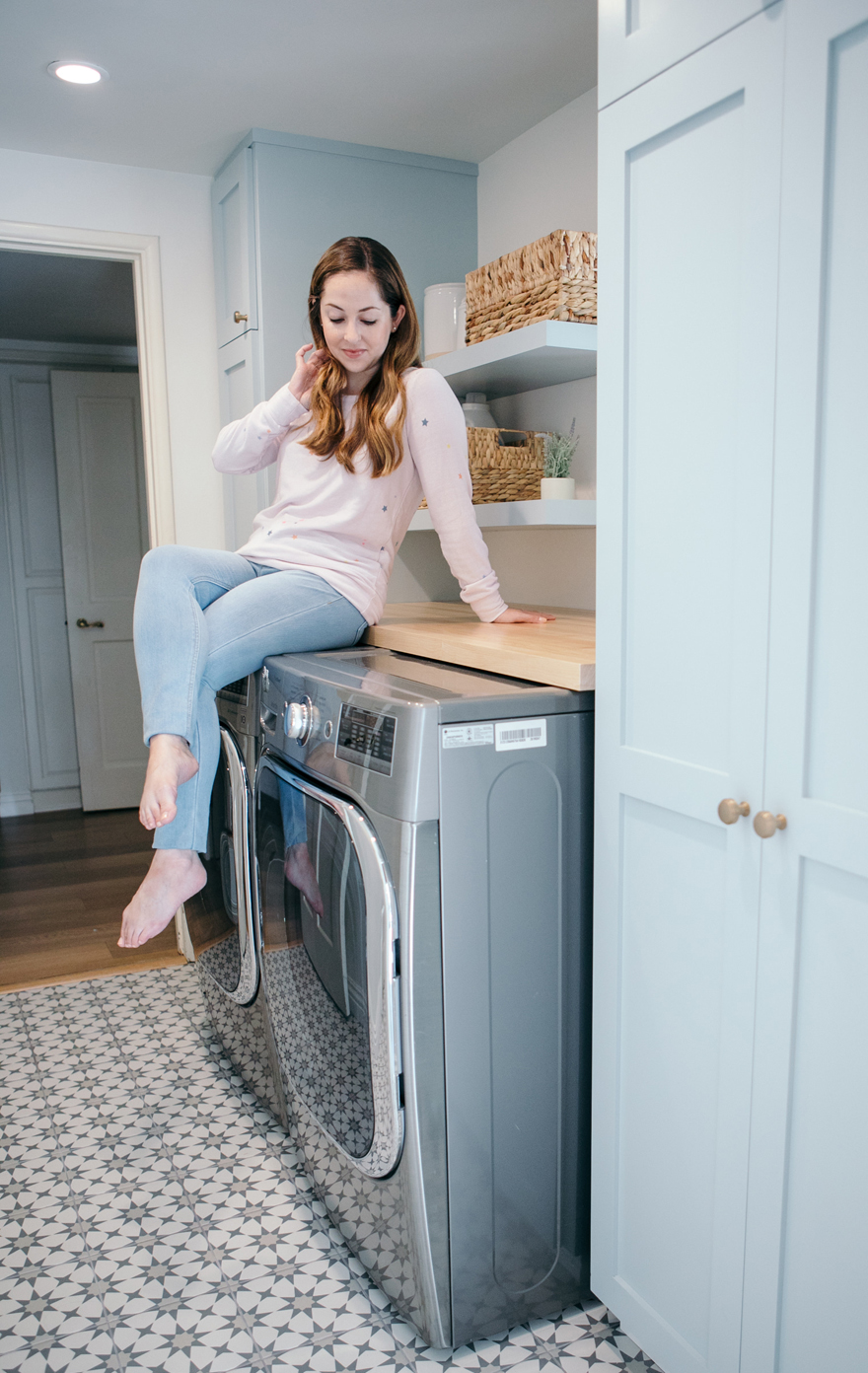 The laundry room connects the garage to the house so we walk through it every time we come home. It's narrow, which is not ideal but with small spaces, I love to do something fun with color or pattern. Originally the space had wood vinyl flooring, white walls, a door that didn't quite work properly, and cabinetry that left a lot to be desired. I wish I had before pictures but to be honest, you're not missing much.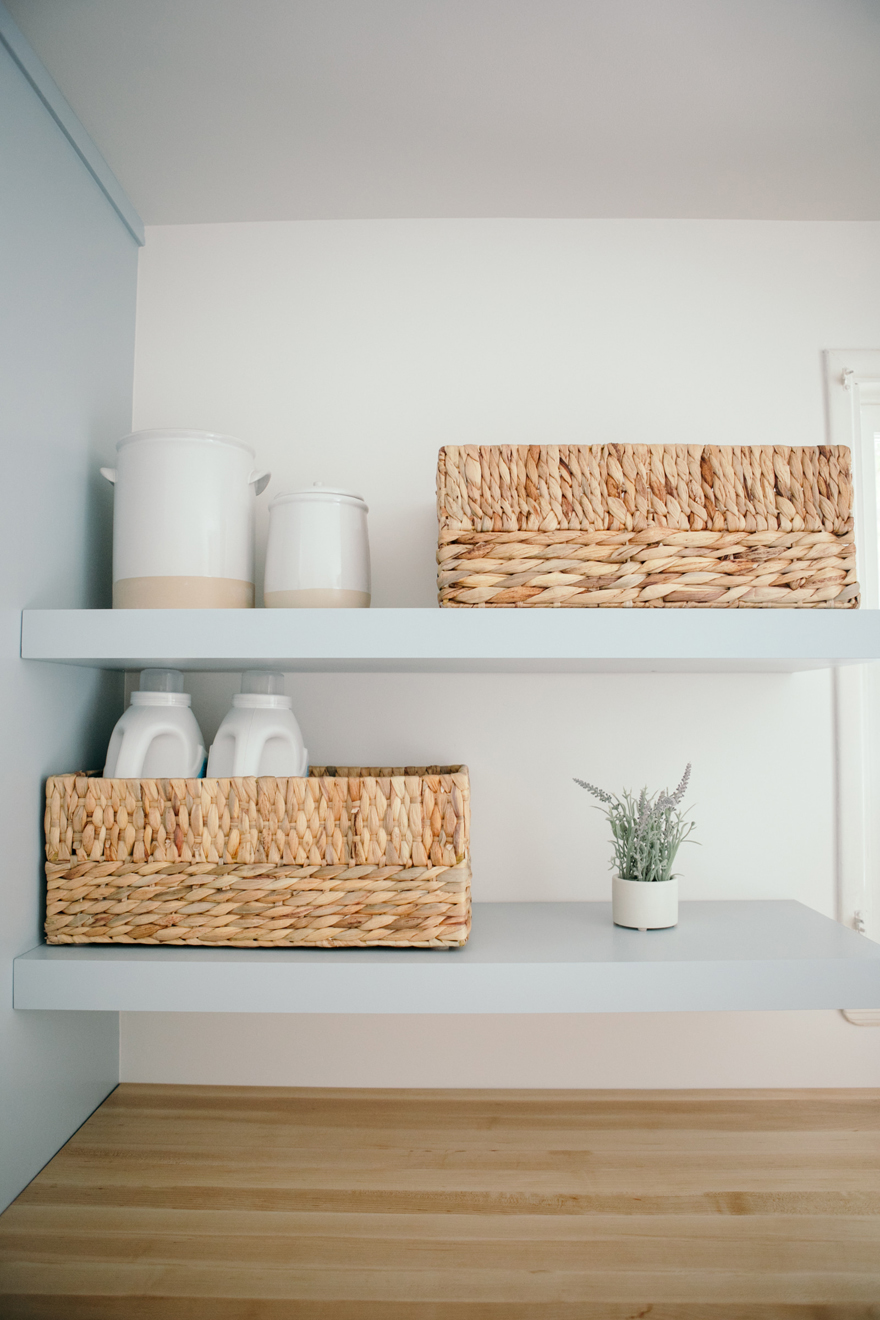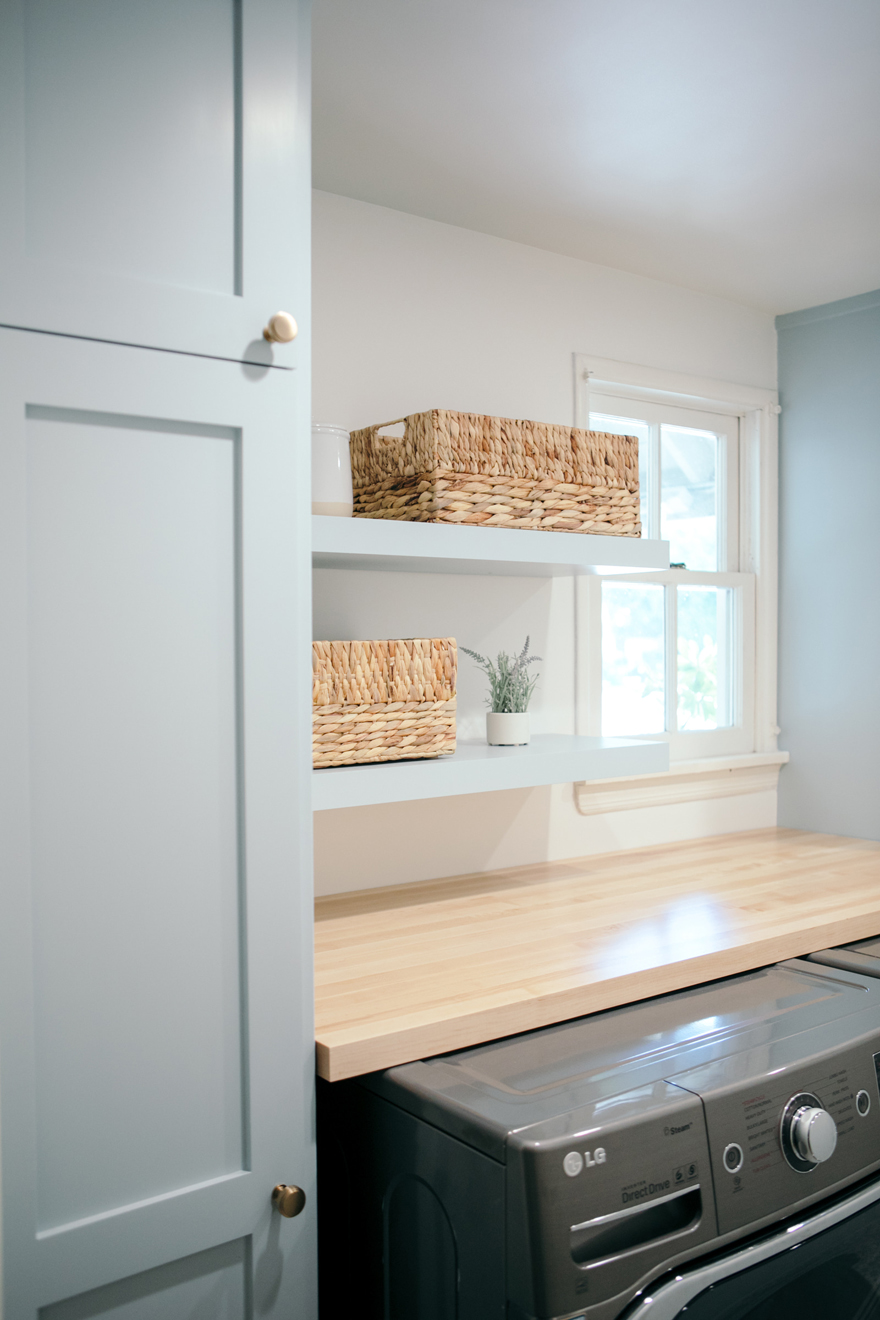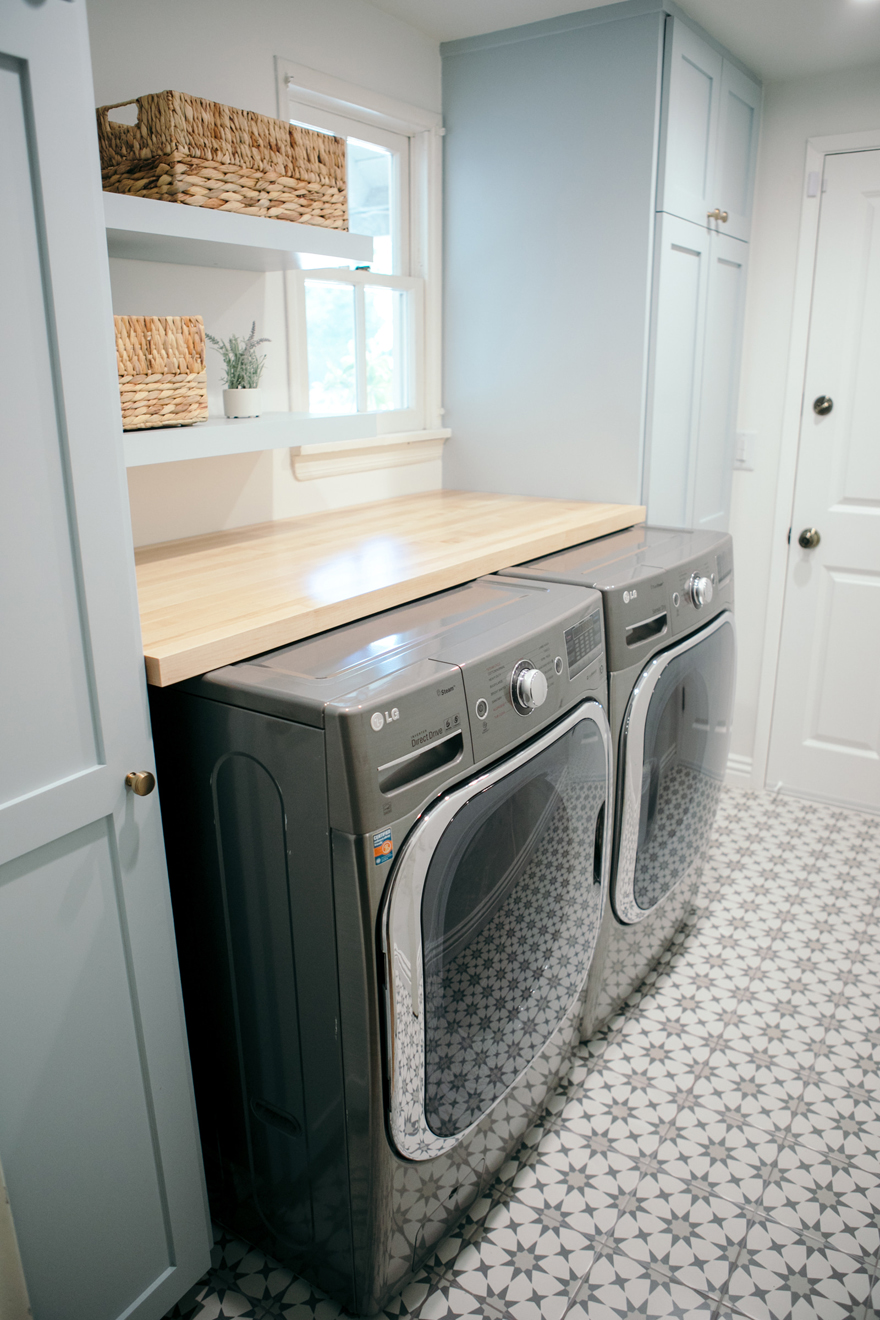 When scheming up the new design, I was set on a patterned floor and a color for the cabinets. We did this space on a budget so new cabinets were not in the cards. Instead, we got new soft-close cabinet doors, new matte brass hardware, and had the cabinets painted the prettiest shade of pale blue/gray and I could not be happier with how they turned out. We did remove the upper cabinets and replaced them with floating shelves which also opened up the space and allowed for some fun decorative touches. We replaced the door going into the garage and I chose this tile for the floor. We added a butcher block counter top above the washer and dryer which made for a nice, sleek look and made that space way more functional.
It probably sounds strange, but this laundry room makes me so happy everyday! With a family of 4 including 2 little ones, I do LOTS of laundry and having a pretty space to do it in makes the chore so much more bearable. Thanks for checking out our laundry room renovation! If you have any questions, feel free to leave them in the comments.