Looking for a coastal New England getaway that's easily accessible from a big city? Look no further than Newburyport, MA. Newburyport is located on the north shore of Massachusetts, about 35 miles northeast of Boston. I flew into Boston from Los Angeles and it was a quick 45 minute drive to Newburyport. Since I visited in October, the drive was absolutely beautiful with all of the fall foliage. And a weekend away in Newburyport, Massachusetts was exactly what I needed.
I have to start by thanking The Busy Creative and the Newburyport Chamber of Commerce, who invited me on this trip to explore the town and attend the Runway for Recovery event (more on that later.) As you know, I'm from Los Angeles but am a New Englander at heart so to be invited to a fall weekend in a seaside New England town was an absolute dream. It didn't take much to get me to book a flight! This trip was truly special, though, on a lot of levels and I'm excited to share more.
We (a group of bloggers/content creators) arrived at our Sandy Cheeks Homes rental on Plum Island (a barrier island on the coast of Newburyport) on Thursday afternoon and were greeted with a beautiful cocktail party and dinner at the house hosted by Seacoast Picnic, Bubble Bar, 90+ Wines, Meant to Brie, Cafe Sarina, Buttermilk Baking Co, and Brine. We had the best time chatting and getting to know each other and the Busy Creative ladies.
On Friday, Jessie Reardon taught a barre class at Fuel Training Studio and although I had planned on going, I had taken a red-eye flight the day before and just needed to rest up for the weekend ahead. But I heard it was a fantastic class and can confidently recommend it! We had a delicious breakfast from Olive's Coffee and Bakehouse and headed out for some crafts, beauty, and lunch. We got blowouts at Interlocks followed by oyster shell decoupaging (which I loved) with Sailormade and Noted Candles at the beautiful Haven Living Co, and had a great lunch from Metzy's.
Then we went back to the house to relax and get ready for the Runway for Recovery event. We drove into Boston to attend and support the fashion show run by founder Olivia Achtmeyer Boger. With Family Grants, Runway for Recovery funds families who have lost a loved one to breast cancer in order to reduce financial and logistical burdens and bolster families with psychological, social, and financial support. While many breast cancer organizations look to find the cure, Olivia looks to find ways to help families for whom the cure does not come in time. Let me tell you, there was not a dry eye in the building. I have never been to such a moving, emotionally charged event that really motivated me to get involved and do what I can to help. I was so impressed by Runway for Recovery and hope to help in whatever way I can when the event comes to California in a few months.
Saturday was all about the town of Newburyport. Some of us went on a bike tour with Great Freedom Adventures, we enjoyed bagels and coffee from Abraham's Bagels, and we headed into town. We spend the day at the quintessential fall festival that they called Octoberfest with a live band, booths selling local crafts and products, and we shopped around town. It truly felt like an afternoon straight out of Gilmore Girls. The setting on the water with sailboats in the background and the autumn trees was really exceptional. It brought me so much joy! We had a lovely lunch at Sea Level hosted by the restaurant and Rise and Shine Marketplace (the crab cake sandwich was delicious,) followed by a stop into The Busy Creative office and a regrouping at the house.
Saturday evening, we went to a "sip and shop" at Virtue Jewelers and Charleston & Coco. Besides feeling totally spoiled by these shops for hosting us after hours, it was such a pleasure to get to know the owners and businesses. It was amazing to see what a tight knit community Newburyport is, and it made me want to be a part of it. If we were to move to the east coast, Newburyport is definitely a town I would consider. The community feel is undeniable and the people are so warm and friendly. We had the best time sipping and shopping and I ended up buying a beautiful rose gold necklace from Virtue to go with my everyday necklace that I haven't take off since. It's perfectly dainty and the exact type of piece that I had been looking for, for months. We finished off the night with dinner at Bar 25 which had such a fun atmosphere and kind owner (pictured below.)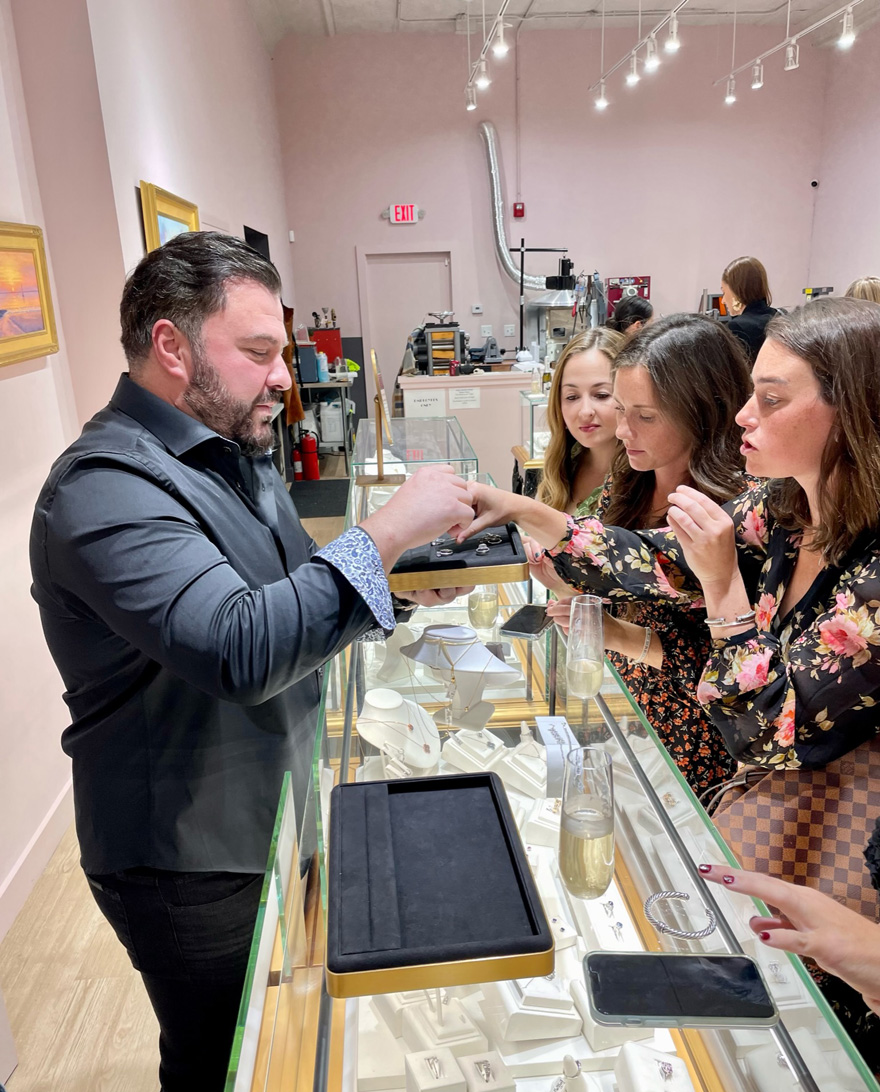 This trip was truly unforgettable and the memories made and friendships formed were well worth traveling across the country. I mainly wrote this post for myself, to look back on as an online journal, but many brands so kindly extended discount codes to us and I encourage you to use them and check them out. Many of these companies are smaller brands and shops that I plan on supporting for years to come:
Tuckernuck (my very favorite retailer for clothing and accessories): HANNAHM15 for 15% off
90+ Cellars: Runway22 for 10% off through 10/31
Charleston & Coco: Welcome15 for 15% off
Design of Mine: Friends20 for 20% off through 10/31
Erin McDermott: happyfall for 20% off
Fig Tree: NbptWeekend10 for 10% off
Greetings by Design: GBD10 for 10% off
Meanwhile Back on the Farm: RUNWAY for 15% off through 11/6
Native Sun: October15 for 15% off
Overeasy: R4R15 for 15% off
Sailormade: Sailormade15 for 15% off through 12/31
Sea Level: SLNBPT15 through 11/6
Shine: Shine15 for 15% off
Sh*t That I Knit: KNIT25 for $25 off through 10/31
The Brass Lion: TT20 for 20% off
The Newburyport Studio: TheNBPTStudio10 for 10% off
Tsunami Strength LLC: Free Week Trial plus 10% off membership
Vaalbara: PORTINFLUENCER
Virtue: V10 for 10% off non-custom pieces
Lillibridge: Hannah20 for 20% off
Noted Candles: HannahM15 for 15% off