The last weekend in April, the Nantucket Island Chamber of Commerce hosts the annual Daffodil Festival– a weekend of cheerful events to celebrate springtime on Nantucket. You can learn all about the history of the weekend, here. This year, my mom and I went together and had the best time. Nantucket is my favorite place in the world, and I'd choose to go there over and over again without question. I've been to the island during off season, fall, peak season, and spring, so I put together a guide to the Perfect Nantucket Daffodil Festival Weekend based on my experiences. I hope this is helpful, and please leave a comment or send me an email if you have any questions!
If you are traveling by plane like we were, just know that if you fly to Boston, you'll be taking a tiny puddle jumper plane to Nantucket unless you choose to drive to The Cape and take the ferry. I don't love the tiny plane, but find that it's totally worth it to get to Nantucket quicker. I just consider it part of the experience. You can also fly into New York or Washington DC, and take a larger JetBlue plane to the island. If you live in the Boston area, you can take a fairly quick high-speed ferry ride from two ports on The Cape. Don't forget to throw a penny into the ocean when you pass Brandt Point Light on your way off island to ensure your return some day!
We stayed at The White Elephant which was perfect for the weekend because it's one of only a few resorts on the island and it's walkable to town. Since The Daffodil Festival usually happens the last week of April which is "off season," it was nice to stay at a resort with a restaurant on property and to have access to hotel amenities. Plus, Brandt Point is one of my favorite areas on the island. I like being on the calmer bay side, strolling the neighborhood, and having town so easily accessible. The Nantucket hotel is also in the area and although I haven't stayed there, I've heard great things. If you are renting a car and don't mind driving into town, check out the island's only Relais & Chateaux resort, The Wauwinet. The property is beautiful, Topper's restaurant is lovely, and the lawn is my favorite spot on the island to catch the sunset. If you prefer a smaller hotel or inn, I recommend Greydon House which has beautiful decor and a great location, Union Inn for that quintessential bed and breakfast experience, and 21 Broad which has a more contemporary feel and a great location.
The first morning, we woke up to a beautiful, sunny, crisp day. Our room overlooked the bay and the water was absolutely sparkling. We walked over to Born and Bread for breakfast, then walked down Main Street with our coffee and popped into some shops. Make sure to check out all of the window boxes and decor- shops dress up their storefronts for Daffodil Festival and each one is more charming than the next! Not every store was open because again, it was off season, but many do open up for the visitors who come to the island for the occasion. After we did some shopping, we headed to Something Natural for sandwiches and one of their famous chocolate chip cookies. You could take lunch down to the beach (Steps Beach is nearby,) but we ate ours at one of their picnic tables and then headed to Nantucket Bracelets to meet the owner, Caitlin, and pick up a couple pieces we had our eyes on. I was set on the the daffodil bracelet to commemorate the weekend, and my mom picked up a gorgeous slim woven vase. Next time I'm on island, I'm going to try to set up a bracelet making class with Caitlin. She had one going on while we were there and it looked like so much fun.
Next, we headed back to town to stroll around and pick up our first Juice Bar of the trip. My order is always strawberry dark chocolate chip in a waffle cone, which they hand make on site. So delicious! Since many of the restaurants aren't open for the season yet, the ones that are fill up pretty quickly. I managed to get a reservation for an early dinner at Lola 41 (they only take reservations day-of, so call right away!) so we ate on their patio which was lovely and located right by The White Elephant. Then, we headed back to read (bring The Matchmaker by Elin Hilderbrand! It's about Daffodil Festival and you absolutely must read an Elin book while you're on island) and rest up for the weekend festivities.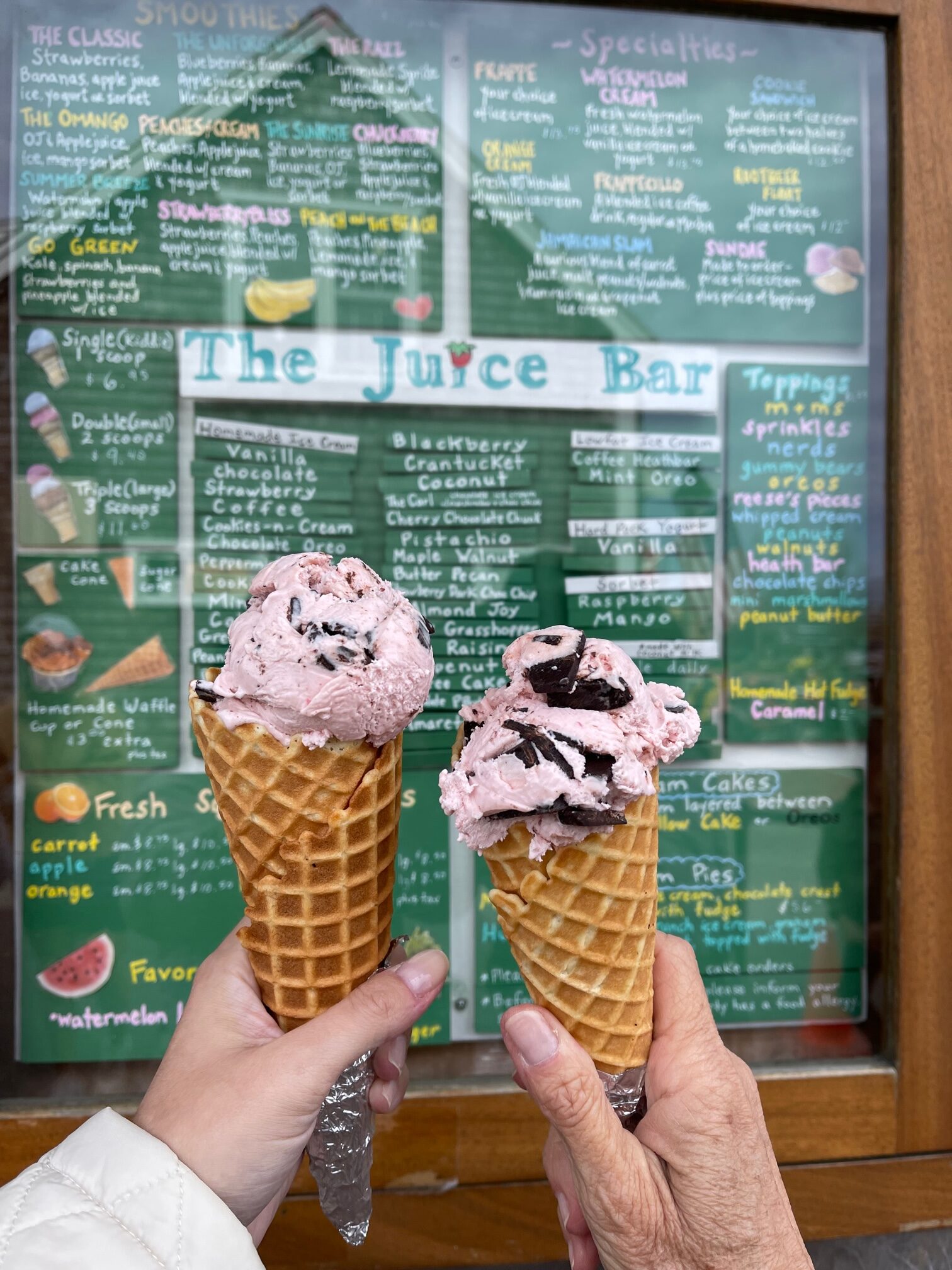 On Saturday morning, we woke up to another gorgeous day and walked over to Brandt Point Light to see the iconic daffodil wreathe and take some photos. We went early and had the area to ourselves which was such a treat! We then went into town for breakfast at Lemon Press and emerged to see cars lining up on Main Street for the classic car parade. Everyone- people, dogs, cars, were dressed up for Daffodil Festival! There was yellow everywhere and people greeting each other with a friendly "happy Daffy!" It was a really fun atmosphere. The car parade heads out to Sconset for a tailgate, so we decided to beat the traffic and drive out there before the cars headed out which I would highly recommend. We rented a BMW i3 from Affordable Rentals for the weekend and it was the perfect car for the island.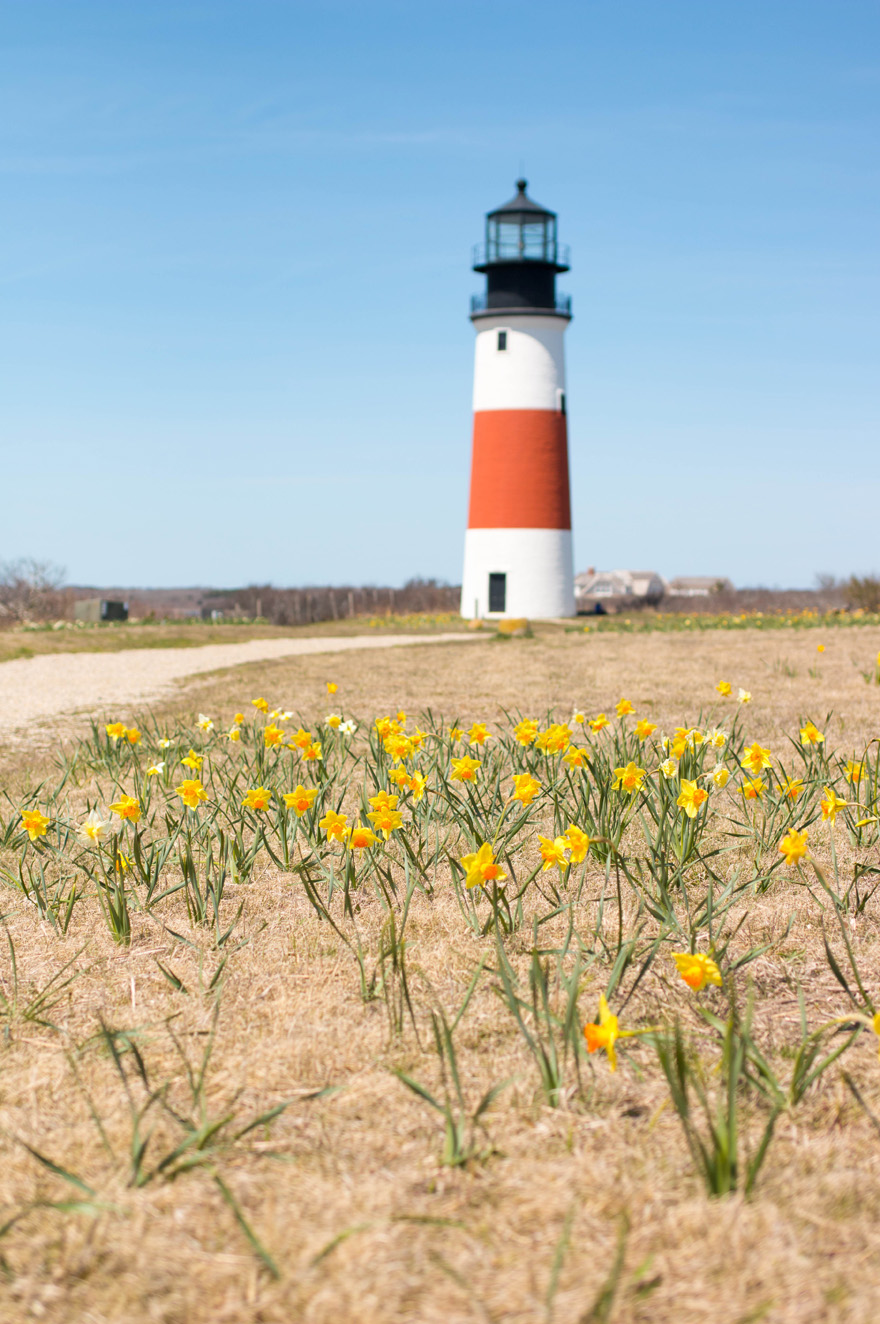 Once we were in Sconset, we parked by the market and headed down to the beach. I love Nantucket beaches during off season, they're quiet, chilly, and serene. Then we did The Bluff Walk which is a must while you're on island. It's a trail that takes you through people's backyards and all the way to Sankaty Head Light which is iconic with its big red stripe, and much grander than Brandt Point Light. There were daffodils swaying in the breeze leading up to the lighthouse and it was completely picturesque. Seeing so many daffodils blooming all over the island is really an experience!
Then we headed back to Sconset town to check out all of the upscale picnics. People set up their "tailgates" all along the street and had elevated picnic items like deviled eggs and Veuve Clicquot in plastic cups. You could bring your own picnic and stay in Sconset, but we opted to drive back to beat the traffic and I'm glad we did. We made another stop at Juice Bar (had to get in as many as we could!) and went back to the White Elephant to unwind and change. Then we headed to the Proprietor's Bar for dinner which had an incredible selection of small plates. I had made a reservation ahead of time which I highly recommend. The restaurant was packed and I was glad to have a table waiting for us. This was probably my favorite meal of the trip. Definitely check it out if you visit!
On Sunday, we drove out to Bartlett's Farm for the Daffodil Show. There were so many varieties to see! Then, we drove around the island to see daffodils scattered all along the sides of the streets and headed back to town. There weren't many restaurants open for lunch so we grabbed a bite at Rose & Crown but next time I'd opt for takeout from Corner Table. In the evening, we drove out to The Wauwinet for dinner at Topper's restaurant. It was a really special meal but what blew the evening out of the park was the magnificent sunset we watched from the lawn. Like I said, this is my favorite spot on island to watch a sunset. Absolutely spectacular cotton candy skies.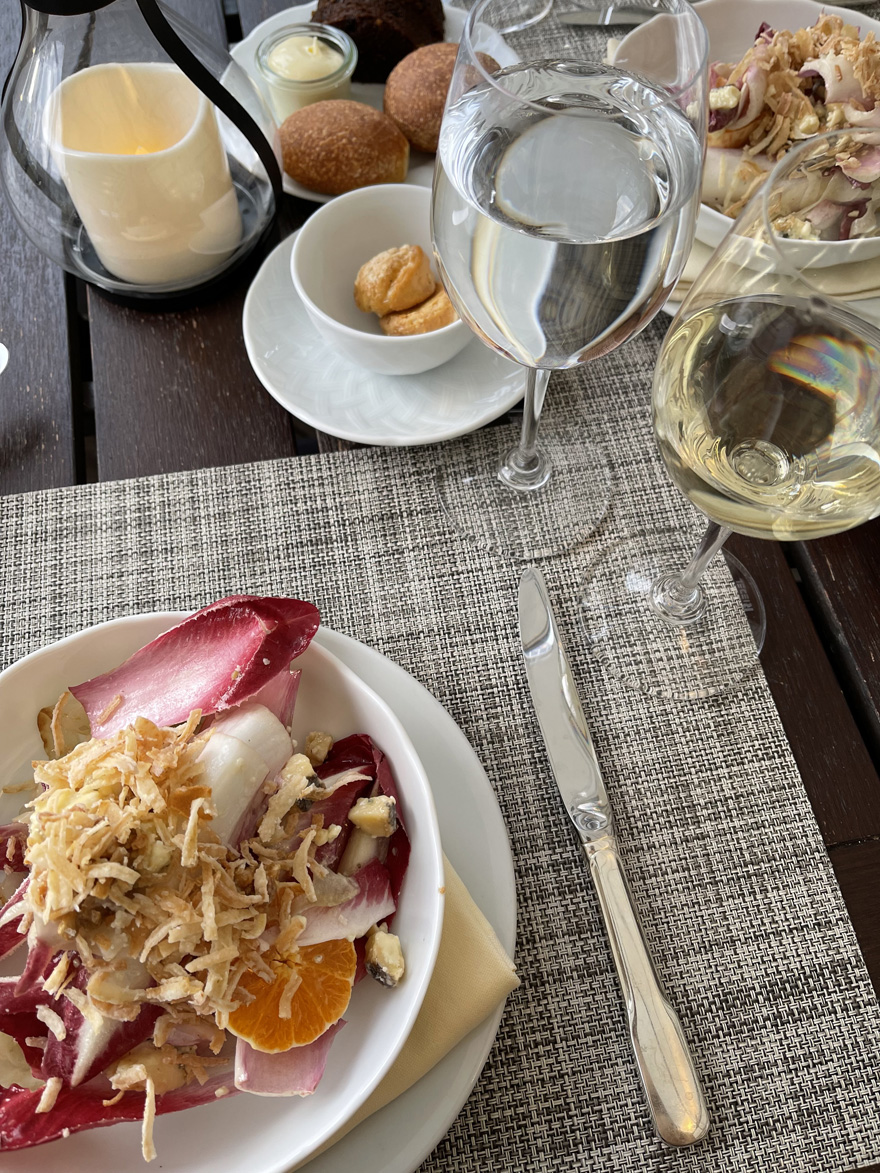 Monday was our departure day so we grabbed coffee at Island Coffee, walked around town for a bit and stopped into my favorite shop, Nantucket Looms, and headed for the airport. The best ending to our trip was that Peter Beaton was on our tiny Cape Air flight back to Boston- I didn't realize it was him until he said "I like your hat," and I told him it was Peter Beaton, a Nantucket classic, and he said "I'm Peter Beaton!" It was such a pleasure to meet him (and his dog) and such a fun way to wrap up our trip. I hope to make Daffodil Festival an annual tradition for us! Here's what I packed. You can shop each item below. Follow me on Instagram for a highlight saved on Daffodil Weekend, as well!