I'm so excited to share this project with you because it holds a special place in my heart. While all of my projects are unique and meaningful in their own way, this one was extra special to work on because it's the kitchen in my parents' house– the house where I grew up. This really is a very special kitchen renovation before and after for me.
My parents bought their house from a builder who was building a custom speck home in the late '80s. They bought it when it was just at the framing stage, so they couldn't change the layout but they were able to select each and every finish. For the kitchen, my mom went with a French country style and chose what were, at the time, beautiful, high-end finishes. She picked hand-painted French tile for the backsplash and countertops, maple cabinetry with some beveled glass fronts, white appliances, and brass hardware. Fast forward 30 + years and as you can imagine, the cabinets yellowed, the countertops, backsplash, and appliances looked dated, and it was in need of a little TLC. Funny enough though, those of us who grew up in the house and going to the house didn't see it this way. It just felt like home. It wasn't until my parents saw a photo of the kitchen that they realized how dated it had become.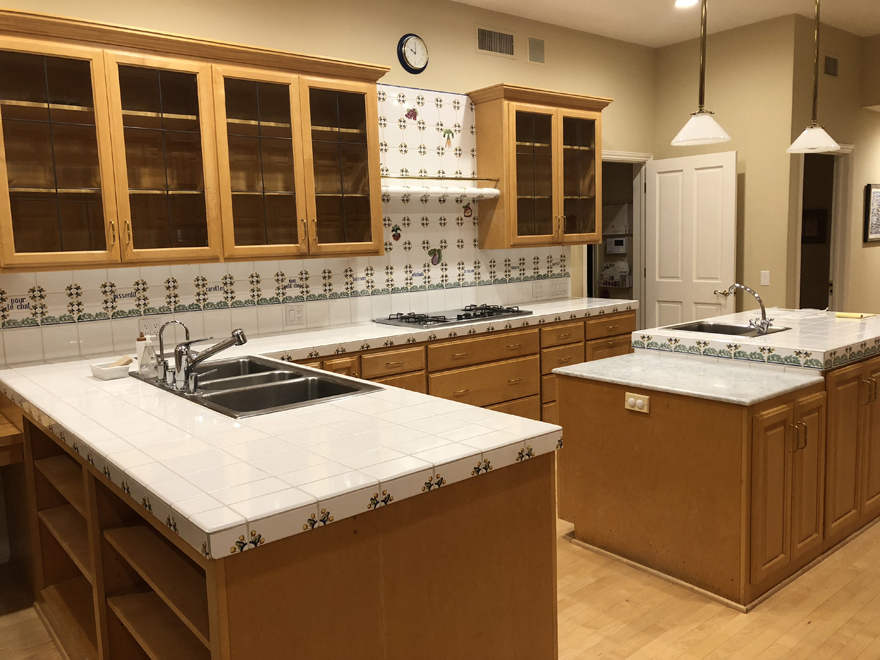 As you can see, it's a great space– it has high ceilings, 2 skylights, a nice big island with a pastry counter, and plenty of storage. But, it needed a facelift. My mom knew she wanted a durable, solid surface countertop so we went with quartz in a warm neutral. The rest of the house has a lot of warm-toned hues, so we wanted to make sure everything flowed nicely. We did the pastry counter in Carrara marble. To tie the pastry counter in with the quartz, we went with a Carrara marble backsplash that has tiny squares of beige stone in between each piece. It turned out to be the perfect pairing.
The old kitchen had a pop-up vent so this time, we chose a new stainless steel vent hood and brought it all the way to the ceiling. We had the cabinets lacquered in white, chose beautiful polished nickel hardware, new pendant lights and a new chandelier above the table, and new stainless steel appliances. We also had the walls painted a soft, neutral tone.
The kitchen now seems so light and fresh but still warm and inviting. I think the updates we made perfectly fit the house and are a great mid point between my parents' very different styles. My mom prefers a cozy, casual feel whereas my dad has always leaned more towards contemporary and formal. This really was a very special kitchen renovation before and after and I'm so happy to have been a part of its transformation.