I've been in a bit of a breakfast rut lately so I went on the hunt for a healthy, easy to make (or prepare) breakfast option. I'm not a fan of the texture of oatmeal but since oats are healthy and filling, I thought either a granola bar or baked oats would do the trick. I stumbled upon this recipe, made some changes, and came up with my ideal, healthy breakfast cookies. They're so delicious (I actually crave it in the morning,) easy to grab on the go, and they give me the energy I need in the morning.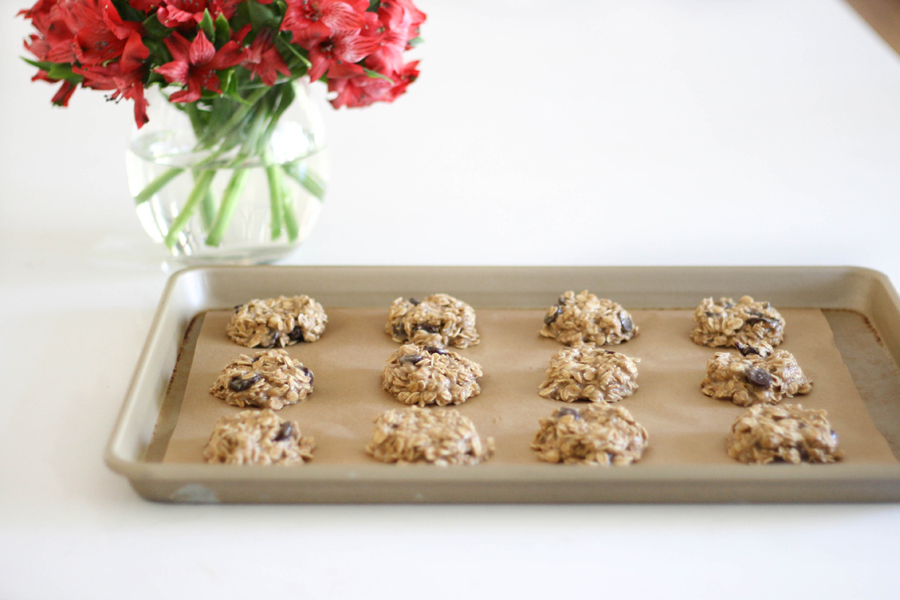 Ingredients:
3 large, ripe bananas
1/4 cup creamy almond butter + 1/4 cup creamy peanut butter
1 tablespoon coconut oil, melted
1 tablespoon maple syrup
1 teaspoon vanilla extract
2 1/2 cups oats
1 teaspoon baking powder
1/4 teaspoon ground cinnamon
1/4 teaspoon salt
1/4-1/2 cup very dark chocolate chips or vegan chocolate chips
¼ cup dried cherries
Directions:
Preheat oven to 350 degrees F. Line a large baking sheet with parchment paper and set aside. In a large bowl, mash the bananas with a fork. Stir in the almond butter, peanut butter, coconut oil, maple syrup, and vanilla extract. Mix until smooth. In a separate medium bowl, stir together the oats, baking powder, cinnamon, and salt. Add the dry ingredients to the wet ingredients and stir until combined. Stir in the chocolate chips and dried cherries. Drop dough by the spoonful (I use a medium ice cream scoop) onto prepared baking sheet. Bake for 12-14 minutes or until cookies are done. Let cool on baking sheet for two minutes. Transfer to a wire cooling rack and cool completely. Makes 2 dozen cookies.
Try it out and let me know what you think of my healthy breakfast cookies!